The town has a web site of its own
Hit this link to e-mail the village tourist office.
You will need LK 5013, the combined map for the Oberengadin.
I have done all these walks myself. For wintry types, there is some skiing, but I have not done any here. I have arbitrarily divided the walks between ones done in 1984, when I had no camera & ones done in 2011. So the earlier photos are either ones I took in 2011, from when we drove over the pass in 2006 (on a Lake Como trip) or ones ripped off the web. Since my first visit, the town has been blessed with a by-pass, so the main street is largely pedestrianised, although the odd delivery truck or bus is evident.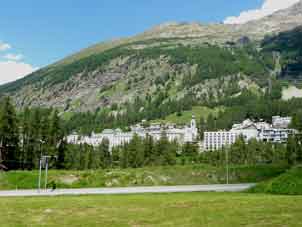 The older (Northerly) part of Pontresina from near the station.