These notes are from Ken Baldry's diary entries, made on tours organised by the society. (It will take me some time to put all these up).
Sunday 17th May Out
Up at 0515 as a mini cab (rather a nasty one) came to take us to London Bridge at 0630, where the coach picked us up at 7 for a quick trip to Dover. So quick that we got the 0915 boat instead of the 1015. This was the huge 'Pride of Dover' roll-on-roll-off-roll-over ferry - about 20,000+ tons. We had an English Breakfast on board. The coach went towards Dunkirk, then Lille across the mega-boring Pas de Calais. Similarly to Liege & Aachen. There was a pit stop near Liege & past Aachen. This was entirely a motorway-bash until near Koblenz, where we took a short cut to Cobern on the Mosel. The Hotel Schnee is quite nice. Old, with a newer extension in which we were but obviously well refurbished & with steep stairs. Big room with another little room & single bed & big shower room. The village has the main road between it & the river but also the hotel parking & a wide pavement, so is quite attractive.
| | |
| --- | --- |
| Alken from above | Alken from the river |
A castle lowers over it above the vineyards. We had cordon bleu (frozen) for dinner. We strolled by the river after dinner.
Monday 18th May Beilstein
Breakfast is 8:30 to 9, presumably as we are getting a terrific deal on this trip: £139 each, so we are being disciplined. I chased Avis out by 0835 but most of the sausage had gone by then. No economy with the rations, though. The rep. from Galaxy Holidays is Patsy, who is no Patsy. She took us up the Mosel to Beilstein, a very manicured village above Cochem. It also had an impending castle in bad condition & we walked up for coffee. This was Burg Metternich, a name to conjure with - he was Big round here. The tower was standing & we climbed it for the view.
| | |
| --- | --- |
| In Beilstein | In Beilstein |
| In Beilstein | Burg Metternich |
Back to the village for an Apfelstrudel for lunch & left at 2, getting back by 3. We walked up a mountainous path to the Castle, Burg Thurant, above Alken. This was a delight. Well looked after & quite small, it had gardens, a chapel with naked rock on the walls & original wall paintings. There was a hunters lodge with heads & spears on the walls & skins on the tables & a very steep tower stairs.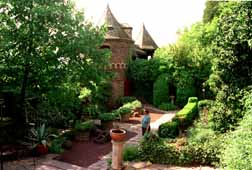 Burg Thurant
We got some food at the supermarket. After dinner (pork with curry sauce, tasteless peas, carrots & croquettes), a river liner (floating hotel) pulled up & an Indian lady showed us (us, Stan & Joyce) round, including the cabin.
Contact: Ken Baldry at 17 Gerrard Road, Islington, London N1 8AY +44(0)20 7359 6294 or e-mail him
URL: http://www.art-science.com/Tourism/AGFHS_trips/Mosel/index.html
Last revised 16/1/2005 © 2002-2005 Ken Baldry. All rights reserved.