XMAS 2000
Jason & the boys descended on us for six exciting days, during which we visited the new Great Court of the British Museum. Richard joined us for Xmas Day & taught the boys to use his synthesiser.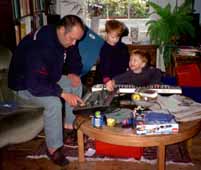 Richard teaches the boys to use his synthesiser.
Links to other pages
---
RICHARD & RICHIGRAFIX
The Royal Yachting Association gave Richard the contact points for the team competing in the World Championships at Forteleza, Brazil in October, so he supplied the sail identification numbers for all but 2 of the team. Lucy Horwood came 2nd in the Ladies fleet & Ross Williams came 2nd Under-21 & 12th male. In fact. Richard's lettering appeared on many of the Internet photos covering the event.
| | |
| --- | --- |
| Greg Lewis with RichiGrafix sail numbers at Queen Mary, London | Close-up of the Richigrafix lettering - super |
See http://www.formulawindsurfing.com.
He gave a talk about wind-surfing & the Worlds to the Stuart Low Trust in November. Unfortunately, he had more business making Foot-and-Mouth warning banners for the Queen Mary Sailing Club, as they have sheep on the embankments to cut the grass.
Richard totally re-equipped his 'factory' this year with an I-Mac & Roland CX-24 cutter.
MORE MISSING LINKS - KEN

Ken's Baldry Family Study web site grew to quite a large size, over 122 pages, during the year, as he included all the IGI Baldrys & the contributions, much welcomed, from other family members, some of which resolved many of the anomalies present in the IGI & joined up bits that did not obviously belong together.
The social year in fact, started in December with our visiting Ken's 3rd cousin, Dennis & Sheila Baldry in Sutton & taking them to a feast as a thank-you for giving Ken his father's family to 1666. They turned out to be very interesting & rather like us in many ways.
Ken is garnering many pen-pals &, when one member, Derek of Florida, was sent off to Bush's war, he was obviously concerned. Derek is in 'special forces' & only 19. His professorial father Geo, plied us with endless e-mailed jokes during the ludicrous American presidential election.


Shipmeadow Workhouse from where Geo's ancestor departed for the USA. Now (!) luxury flats.

We did forays into Suffolk to take photos to embellish the web pages of family trees. Not strictly necessary but nice for our foreign members, who could see their homeland.
As he is not doing any work on the Delaforces, Ken had a number of enquiries he could not help with, so he set up a Delaforce Members Enquiry Page on the Web for their questions, as well as directing them to the Force e-mail network.

COUSIN RICCARDO

...Rizzi was born too late for a photo last year. Here he is on 14-8-2001 at Cousin Margaret's when, for once, all her far-flung family were around, Justin being in Tokyo normally & Serena & Ian Williams in Bangkok. Ian is currently trying to report the War.

EXCITEMENT WE COULD HAVE DONE WITHOUT

On March 6th, we had an intruder break in at 2315 & threaten Avis with a knife. Ken tackled him, ripped off his mask but was cut in the fight which more-or-less stalemated. Avis, who by this time had joined the fighting, gave him a trivial sum to go & the police were soon round. The Whittington Hospital sewed Ken up & the local paper lapped it up, as we are 'famous for being famous' locally.

The photo the 'High & I' used in their story, of Ken with the knife ©Sonya Davda

Later, the police caught him & Avis, the visual artist, nailed him in an identity parade.
Stop Press! He was Henry Danso 38, a schizophrenic crack addict & was given two life sentences for a host of crimes.

---

MORE MISSING LINKS - Avis

Mike Green, one of the William Daniels' (Avis' great-great uncle, the famous artist) descendants, contacted us with more information, pictures & the missing pages of the 'Liverpool Lantern' obituary essay. He also arranged a family reunion at the Surrey home of his uncle John and his wife Barbara . We also met Mike's mother Pauline WD's great grandaughter, who later went to see Jason as 'the Servant' with Avis.




Barbara & John

Mike Green

Pauline Green

Jason is thrilled about William Daniels, especially his portrait of Keene as Hamlet owned by the Victoria and Albert Museum. Ken has made a book of all the Daniels material and Jason gave a copy to Dominic Mingella , the screen writer, as possible material for a film or TV series. Ken also gave the book to the Tate Archive.