Ken's ancestral tour through
South-West France - 5 - Fourcès to La Mazut
Saturday 28th June 2003
Breakfast was bigger than usual, including baked apples with sultanas & (hard) boiled eggs as well as croissants, one of which we shared. For once, the sky was clear, which promised for heat that was delivered, gradually increasing through the day. Anne charged us €255 as promised & insisted the extras (which of course, included an excellent dinner) were part of the hospitality. (If you stay there, don't rely on this. I suspect the level of hospitality is dependent on your level of compatibility with the Carters!) I gave her my card & said to drop in for dinner in London some time, which she did not take seriously, although they do visit Blighty occasionally. She told us more of their tale: when orders for documentary films dropped right off in 1979, they decided to take a year's sabbatical in Majorca rather than hang around for the market to pick up (Don did documentaries for companies etc.) This turned into exile in practise, when a baby appeared. The boy went to school in Spain & then to boarding school in Britain. Then he went to university in Bordeaux, as they were now in Fourcès.
We left after 1000 & drove on a route I had carefully written up for Avis' navigation, as it looked tricky. Back through Condom & on the road to Lectoure (in French). It was a pity we did not think we had time (we did) to stop in Lectoure, as it is a fortified medieval town on a good position on a rock, with much extant wall. We carried on, being impressed by another town, Tournecoupe, but disappointed by St Clar. We went on another road to Verdun (in French), which cut off a corner I had not noticed but was signposted, the signs being quite good out here after our bad time in Bayonne. Verdun is a 'proper' working town but the bastide middle is very well preserved & we liked it a lot. (Link to our scrapbook page for Verdun). The town hall was just closing & the library would not be open for two hours but I think I will write to them if their stuff is not on the Internet. We walked round under the wall back to the main square, where we had coffees €4.20 & left, going over the narrow suspension bridge over the Garonne. Just before, there was a splendid view back, which I photoed. The road to Montauban (in French) was straighforward & free motorway at the end. We parked just outside the pay zone & wandered into the town. We found the wonderful square (Place Royale, now Nationale) where the market had been this morning (it was now after 1300) & had paninis for lunch there, rather large ones. This was under the double arch that surrounds the square, which looks very old & built, like much of the town, of brick from, it appears 1651 after a fire. We needed to see this place, as it was one of the last Protestant strongholds in France.
| | | |
| --- | --- | --- |
| Montauban - Prefecture | Arch leading to the Place Nationale | Market in the Place Nationale |
We wandered more, retrieved the car with difficulty, as someone had double-parked us & set off up the 'old' road (N20 still) to Cahors (in French - the English version does not work). The N20 was very attractive after a while, being largely 'up' with big views to the East.
| | | |
| --- | --- | --- |
| Cahors - the Gambetta Statue | Mairie | The Wall |
| Henri IV's house | The Cathedral has domes over the nave | The Cathedral |
In Cahors, we parked by the River Lot & walked into the town. This was very clearly, the birthplace of Leon Gambetta, the hero of part two of the 1870-71 war. (One would have thought that such an imoortant politician would have a considerable presence on the web but all I found was this:- GAMBETTA, Leon 1838-1882 A Republican politician, opponent of the Imperial regime and the war with Prussia, Gambetta proclaimed the Third Republic in 1870. He contributed to the downfall of Mac-Mahon, but did not exercise power until 1881 when his shortlived government nominated Manet for the Legion of Honour.) The older part had this huge cathedral with domes & a wedding on, the low point of which was when the priest sang a song. Outside, friends of the happy couple had prepared a motorbyke with a straw man on it & a straw woman with a gallows. Not that different from one's English friends. The town is on a tight bend of the river & the wall cuts off the landward side. A good position. I dumped Avis on the river bank near another Henri IV house & picked up the car, it now being bloody hot (the pharmacy in Verdun said 28.5C hours before). We drove along the Lot slowly, as it is very pretty & were much impressed by Vers & St. Gary, after which there was a bridge & a frightful road up to Pasturat, on which one would never want to meet an on-coming vehicle. We found Mike's place, drove in, parked & I wrote this up so far.
Mike & Françoise turned up earlier than we expected, at 1835. Someone had asked us when they would & open their swimming pool & I said after seven. He took us up to the gite we were to stay at, Les Mazut, about 3 km away & we immediately got into our swimming things. Then he ran us back. The pool was pleasantly warm after being in the sun all day & we dawdled around for about half an hour, when food appeared, strange stuff, a veggy paté, a 'cake' with tomatos & mushroom baked in. Then, a long sort of crepe roll with salmon in & not a vegetable in sight but a chocolate mousse thing for pud. This was enough, though & the gallons of wine were too much really. We were joined by two people (not a couple), Pierre-André & Marie-Ann, a distinguished translator, sixtyish & quite a dish, which Mike said she did not know. I stayed in my swimming things throughout. Mike ran us back to the gite, run by a nice old couple Carmen & Pierre & with charming, imaginative, decor, orange walls & blue sheets (yes, it does work).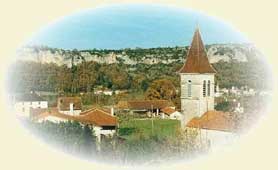 Pasturat ©Mike Griffin
---
Contact: Ken Baldry at 17 Gerrard Road, Islington, London N1 8AY +44(0)20 7359 6294 or e-mail him
URL: http://www.art-science.com/Tourism/France/KA/ka5.html
Last revised 6/7/2003 © 2003 Ken Baldry. All rights reserved.