| | |
| --- | --- |
| | Norwegian Coast Cruise 2012 - Leknes Lofoten Isles Page |
Leknes, Lofoten Isles
Coming in to Leknes
In the morning we were still at sea & I gave my Grieg talk to some acclaim. We set out for the coach after lunch, which we had with Melissa & Cynthia, the Classical duo, daughter singer & mother on the piano. The coach took us round various places in the area, starting with Ballstad & had several photo stops.

Ballstad panorama from across the fjord

One of the two harbours (North Harbour) at Ballstad

The other harbour (South Harbour) at Ballstad
| | | |
| --- | --- | --- |
| In the North Harbour | Across the North Harbour | Leknes from the ship. (It's a dump) |

Looking out to sea from Leknes Harbour
The weather was dry but very cloudy. However, it was interesting enough. On a pass road stop, I climbed up the nearest hill for a better viewpoint & Glen Monie, the ship's crooner, followed me.

Looking back towards Ballstad from the pass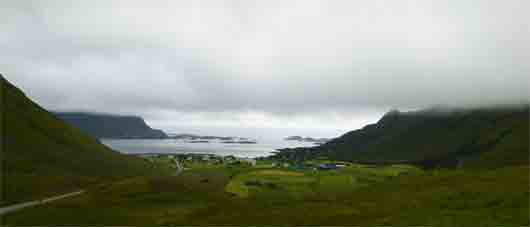 Looking forward over the pass

Looking out to sea from Leknes Harbour
Back just in time for tea. Priorities, priorities.


Leaving Leknes
---
---
Contact: Ken Baldry at 17 Gerrard Road, Islington, London N1 8AY +44(0)20 7359 6294 or e-mail him
URL: http://www.art-science.com/Tourism/Cruises/NO2012/NO1.html Last revised 21/8/2012 ©2012 Ken Baldry. All rights reserved.